Returned 86 results for 'Category: Dating Help for Men'
Wednesday, March 6th, 2013
'What Women Want' has been an intriguing subject for movies, books and even discussion in conversations? Women are complex creatures but not as mysterious as men think them to be. They are just different.
Read full article
Thursday, February 21st, 2013
Men may put up a façade of being confident and 'couldn't' care less' attitude most of the times towards women. Men are human beings too with a rationale mind. There are a lot of situations and actions that make men most comfortable especially when dating.
Men are as apprehensive about dating as women. It's just that most women share their anxiety with their friends but men don't. When you have found the right guy to go on a date, there are a few things to keep in mind to make the date fun and exciting when you make sure you are not making him uncomfortable.
A poker face makes guys most uncomfortable. When a guy cannot read what is going on in the dates mind, he is just too uncomfortable. He may probably lose interest in you. Keep constant eye contact with your guy and don't stone wall. Express yourself not only with words but with gestures and facial expressions too for him to find you more attractive.
The pitch of the voice is another zone that makes men uncomfortable when on a date. Shrieking voice irritates the wiring of the brain and the guy would prefer to leave rather than sit there. Yes, each one can modulate the voice so that it does not attract attention from other people who are around you.
Discussing interest in porn or nudity is the most uncomfortable zone for men. They are not sure how to react if women discuss porn on their initial few meetings. When the dating has evolved into a closer relationship then it is ok to discuss nudity or porn.
Let the relationship evolve before you ask the guy about commitment and marriage. Men think on a physical plane while women think on an intimate plane. These two plains literally form skew lines and the guy is caught off-guard when women suddenly discuss marriage and commitment making him uncomfortable. Too much bonding also makes men uncomfortable.
Tags: dating advice, Single men
Saturday, January 5th, 2013
QMS (quality management system) is needed for quality management whether you are into business or you are dating. QMS assures excellent results and achieving the goals as almost predicted.
Female's ideal male is 'James Bond'. He has positive body language, well dressed, well built, suave and totally appealing to the female psychology. Every woman wants to date this kind of an alpha male. Men on the other hand love to flirt, go dating and spend quality time with beautiful and intelligent women but run away from commitment.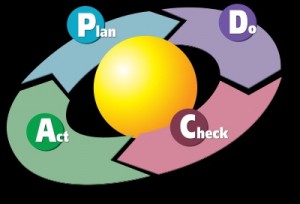 Dating has become an intricate process which requires a quality management system (QMS) in place for excellence in performance. PDCA is the management method that should be applied in a relationship for continuous improvement.
Plan-Do-Check-Act are the mantra for success in dating. The alpha male is aware that women get weak in the knees simply in his presence. Flirting and dating gives him a high and he is aware of his dislike for commitment. Follow PDCA!
Plan- decides the objective (dating her) and the expected results. Make a plan or process to achieve these results.
Do-collect the data required (her likes and interests) and implement that plan so as to achieve the goal (of dating her).
Check- compares the actual results against the expected results. Whether she was floored enough by you as per your expectation or way below when you went on a date.
Act- if she is truly interested you and you feel she is the soul mate you are searching for, adjust your actions. Analyze the cause of the variance in the planned and actual results. Alter your plan and improve it with finer detailing.
Follow this ISO certified dating technique for men and let her swoon over you.
Tags: alpha male, commitment, ISO certified dating, relationship, single women
Wednesday, December 26th, 2012
You liked her since the day you saw her. Every time you meet her, your heart beats faster. Settles those butterflies in your stomach by telling her you like her. The year is coming to an end and so tell her you like her before 2013.
Words and actions are as expressive of any emotion and when it is this beautiful emotion 'like', the eyes convey it the soonest.
Do's & Don't
Don't be in a rush to tell her you like her. Think of the times you enjoyed her company and what was common between both of you or what made you respect her a lot. Remember what situation she was uncomfortable in and avoid that kind of situation.
Women simply dislike men who are not confident. Find out from other women friends what kind of attitude turns them on or off. Accordingly analyze your special one and decide how you will express your romantic liking to her.
Check out these WingGirls video - How to tell her you like her
Choose a proper place to tell her how you feel about her. Telling her in the middle of the ocean in a sailboat or announcing through a talk show is only good for movies. Do not pressure her and be open to accept her response by telling her you would want to remains friends if not a closer relationship.
Do not expect an immediate response from her. It takes a while for the feeling to sink in and for her to understand if the feeling is mutual or not. If she doesn't respond then it means she does not feel the same way about you.
Say it with flowers or over a drink which will be in a relaxed environment for both of you. Put your romantic foot forward and tell her you like her before 2013.
Saturday, November 3rd, 2012
Men always complain that their female counter parts are jealous of them and of other women. Jealous is a feeling that directly originates from insecurity, largely because of emotional insecurity in the relationship when it comes to females. It is often termed as possessiveness.
You will hear most couple fighting over this issue often where a male always tries to sort out the issue with their wife or girlfriend, pretending there is nothing there.
Men are of this world and thing that drives a woman crazy are often enough to make men jealous too.
Men Jealous of Women - Too Close to Other Men
Men feel jealous when their ladies becomes too close to other men. Instances like physical touch or hanging out with them would make it hard for men. Other cases, like too many male friends on the social networking sites could spark off jealously. There are few men who can handle this kind of situation well but when their women start to give importance to other men it can become intolerable.
Men Jealous of Men– Too Many Factors

It's a man's world and when their ego clashes there is going to be big uproar.
In a recent survey 59% of male said that they were jealous of other men because of their beautiful girlfriend or wife. For men, the status and money matter a lot and that is why 35% men said that they were jealous of other men because of their financial status and material possessions. Only 6% feel jealous because some one is more educated than the other.
The recent hot discussion on Jumpdates forum also reveals the truth of "What makes men jealous". Login and don't forget to post your views to ignite this discussion.
Tags: ladies with other men, men are jealous of men, men are jealous of women, physical touch, What Makes Men Jealous