Free Dating Site Review - Fropper.com
Look and Feel
The site is designed to look very pleasing to the eyes, most easy to browse when you have decided to find a date. It so rightly said that nobody is a stranger here. View the people, photographs, play games or check the blogs. You never know with whom you will fall in love here.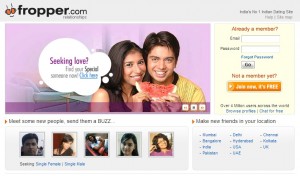 With the ease of navigation on this site, you can easily find the person to socialize with right from the comforts of your home office using your laptop or your smart phone. You can be sure never to be alone and feel lonely and depressed as somebody is always here to give you company.
Registration Process
The registration is simple and quick. It is free and all you have to do is put in details like email, full name, the name you want to be displayed when you are surfing the site. Personal details like gender date of birth, county, state, city. Remember to punch in the verification code so that they know you are a genuine person and not a machine.