Jumpdates celebrates it's 17th Year in Free Online Dating!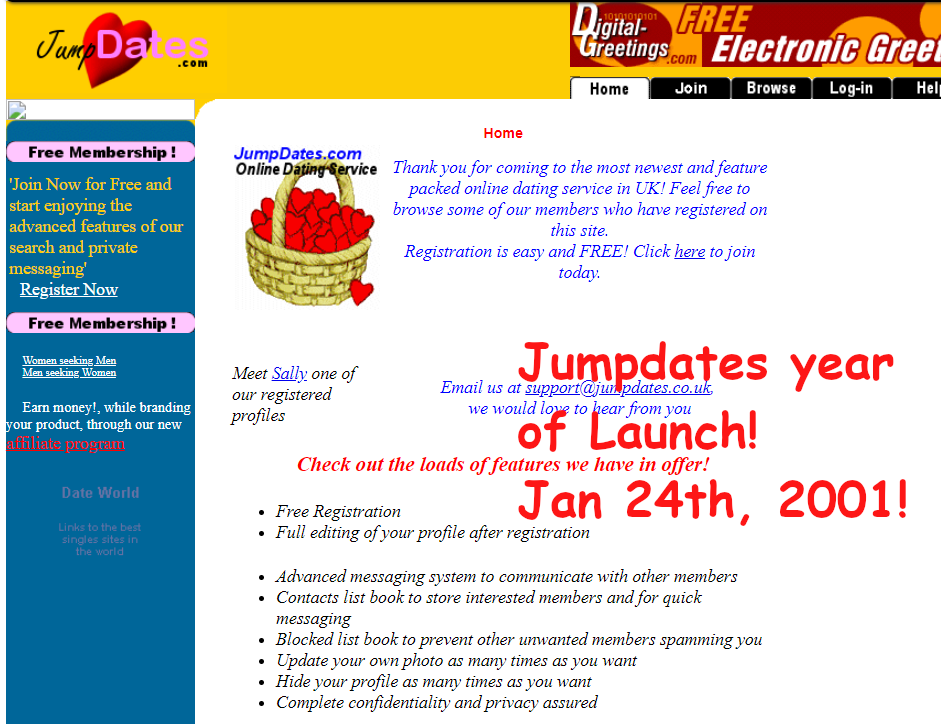 Jumpdates is celebrating its 17th Year in the Free Online Dating Service in USA! We have come a long way since then and growing in numbers. Checkout a brief history of Jumpdates since its inception in Jan 24th, 2001.What wonderful years it has been for Jumpdates since its beginnings back in 2001. Jumpdates has come a very long way since then and has kept true to its original vision of providing a completely free dating service to all of its members. It's aim right from the beginning was to provide a free and easy to use dating platform to all and everyone around the globe. The easy to use website and simple navigation allows members to quickly narrow down their searches and find suitable mates.
The success of Jumpdates has been mainly due to all of the members of the site who use it on a daily basis to find, date and even marry. We apologize that we have not been able to attend all of those kind invitations to the weddings of some of our previous members who have found their partners through the site. We wish all of them a happy and successful relationship for years to come.
Let's try to understand a bit about Jumpdates before we dive into the history of Jumpdates. The site caters to all people alike who are interested in finding their long-term partners. It is not a site that caters to the short term relationships, although some may use it that way but they quickly learn that people who come to the site have a genuine need for a companion and preferably a life-long partner.
.
Ok, now back to history.
Jumpdates was conceived and programmed by the founder Dr. Ferdouse Khaleque who aspired to the great internet revolution that was happening around that time. In his quest to jump (no pun intended) into this new internet revolution, he decided to give up his illustrious career as a scientist and pursue the technologies that will shape the way we live today.
Did this happen or not!
Can you imagine living in a world without the instant access to online services that we have today. It is hard to think like that but for visionary people like Ferdouse Khaleque, the stage and the beginning of a new technological revolution was about to take shape and they deeply wanted to become part of this revolution.
Dr. Ferdouse Khaleque at that time put all of his energy into acquiring the knowledge and skills of the new wave of technology and decided to come to the US from UK to further his ambitions and goals. He joined a startup company while at the same time and a huge void in the online dating market was wide open. This was the year 2000. Since he was a passionate programmer, it took him little time to acquire the skills needed to produce the first version of the online dating site Jumpdates.com. Built around ASP and MSSQL server, the site was an immediate hit with the users, garnering over 70 members per day.
At that time there was a handful of online dating services such as Yahoo, Kiss.com, Udate.com and match did not even come into the picture. Pof (plentyoffish) was still in the makings and lent much of its presence to Jumpdates. Jumpdates pioneered some of the features that were eventually incorporated in other dating sites including the instant messenger which we take for granted and the save search feature.
It wasn't too long when Pof came into the scene and thanks to their brilliant marketing strategy became the dominant player in the free dating site space. Now Pof along with many other so called free dating sites offer some 'freemium' services to its members but Jumpdates is one of a very rare breed and that as been 100% free.
Jumpdates continued to go from strength to strength and built a strong member base. It introduced a new redesign website in 2008 following the Web 2.0 initiative and continued to make its presence in the free dating space.
You may want to ask yourself where does Jumpdates want to go from here? Rest assured, Jumpdates is now realigning itself for the next wave of digital technology and will again be instrumental in paving the way for others to follow suit. You may not know that Bitcoin technology has the ability to bring significant changes to the digital infrastructure that we have today and the founder has touched on this significant topic from his personal blog page. The article discusses the significant benefits to the end user as well as the business and elucidates how Jumpdates can be be pinned to this new technology.
You can read the article here.
We know that Jumpdates will continue to grow grow in spirit and in mind and and to be a driving force in the modern age of communication and social platforms. The intersection of new technologies with Jumpdates only means great things to come for our present loyal users and new users to follow.
We hope that you will continue supporting Jumpdates and build an even stronger base that will continue to serve the interests of our loyal members.
Tags: 17th Year, founder Jumpdates, jumpdates brief history, Jumpdates celebrates 17th Year