Review of Dating Site - Tawkify.com
Look and Feel of Website
The home page is very simple and intriguing and does not reveal anything that is in store for you. Don't simply leave, click on any of the links below and you will know this is one of the most user-friendly sites around. Browse the ways you want to meet your dates, over the phone, on a stroll or at the street corner. Depending on what your temperament is, choose where you want to meet your date/match.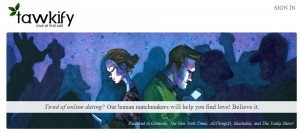 The FAQ sections answers most of the queries which you maybe hesitant to ask anyone. This makes you most comfortable and helps you to analyze your thoughts and emotions. The font used is bigger and easily readable that also makes you read and surf further.
Tawkify gives amazing cocktail recipes too. This helps to actually release the stress of finding a match for you. They advise to have this drink twenty minutes prior to answering the phone and gives you tips on how to speak well.

Registration Process
It is a simple and easy registration process, keeping within five minutes of your time to complete. On the home page simply fill your name, email, contact number and click on 'match me' to submit the information. The phone number you have given will ring and you must answer that. Mr Brooks will give a three digit code, entering this code will give you access to a set of questions. Answer the questions telling more about you. Again submit your information by clicking on 'match me'.
Tags: Review of Dating Site - Tawkify.com, reviews of free dating sites