Review of Free Dating Sites - DateHookup & BookOfMatches
My first review of the three free dating sites (matchdoctor, jumpdates and plentyoffish) led me to explore more dating sites of this nature.
The two sites reviewed here, datehookup.com and bookofmatches.com (bOM) are 100% free online dating websites. It does not cost anything to sign up and use their service and the adage "Love is Priceless" applies.
Signing up to datehookup.com was not a problem and one thing I liked was that the registration process was quick and easy. It literally took me about 40 seconds to complete the signup. There were very basic questions about personality and you are pretty much ready to go. You don't need to be a member if you are only there to read the forum, see other member profiles or to get new dating ideas. However, if you are coming to make friends and do some serious online dating that you need to sign up.
Customizing your own profile comes with lots of options and color combination. You can modify your profile page to look and feel the way you want and create your own unique web presence.
One thing I noticed was that it never asked me what kind of relationship I was looking for. Am I looking for date or long term relation? I found that to be a bit odd.

Look and feel of the web site was nice with well built menu options that are easy to navigate with cool color choices.
There are several options for searching for profiles - you can do a quick search, advanced search, search by nickname, directly search from the photo gallery or search by keyword(s).
The quick search is like all other sites but advanced search is what I liked the most. Though it is a bit cumbersome, where you need to specify the age, height, hair, body, ethnicity, sign, education, job, income, politics and religion and can be time consuming but it is actually worth it. You can save this customized search and get notification in you emails of any matches pertaining to this search criteria.
I found it innovating that within the searched profile, user can sort results; by best match, common interests, proximity to your location, by age. It is like filtering you search to get the desired results.
Members of the websites are young and in their 20's and 30's. You can add up to 16 photos.
The site seems to have all the common features such as send wink, mail, add as friend and/or favorite, block profile, reading and writing to the blog and forum boards. After you login the site shows what other users are doing in your area.
You can flag a picture and profile as violating the guideline and policy of the website.
My rating out of a possible score of 5 is shown below;

Ease of registration process – 3
Look and feel of website – 2.5
Number of features – 3
Profile creation and completeness – 3
Searching pattern and getting results – 3
Overall rating – 2.9
I think I was hooked up enough with Datehookup and take out a leaf from BookofMatches. It is again a 100% free dating website and they do not ask for your credit card.
Registration process is easy even if they make the claim "Create a profile in 30 seconds".
Registration and creating profile took more time than what they indicated.
Look and feel of site is very cute with nice color combination, and again like Datehookup, you can customize the color combination of your profile to create a unique presence. However, at first site it seems to be crowded with too many options.
The site has all the common features of sending mail, instant messaging, adding as crush/friends and blocking other unwanted users.

The main feature of the site that stands it apart is it's video chat function. Features like bulletin board, writing essay, uploading a video from YouTube or creating a playlist from Playlist.com adds a touch of social networking.
The site has excellent privacy options – like blocking mails, and manage your contacts which makes this an exciting site to use. There are also free games section where you can actually play flash games. Games like packman, blastbilliards and ninja gives the impression that you are on a genuine gaming site.
Ratting a picture is an uncommon feature added to this site but not sure why it didn't show presentable faces to me.
Like the other free dating sites, this site also has features like the forum which is almost always available on other dating sites.
From a possible score of 5, the rating for BookofMatches.com are shown below;

Ease of registration process – 3
Look and feel of website – 2
Set of features – 3
Profile creating and completeness – 3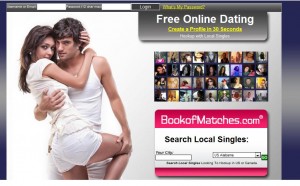 Searching pattern and getting results – 2
Overall rating – 2.5 + 1 (This is for extra features added) = 3.5