Posts Tagged 'date'
Friday, February 1st, 2013
The 'A Christmas Kiss' is a modern day fairy tale based around a young talented ordinary working girl and a high powered aristocrat. The movie made in 2010 stars Elisabeth Röhm, Laura Breckenridge and Brendan Fehr with Laura Breckenridge playing Wendy as the working girl and the 'prince' played by Brendan Fehr. Parts of the movie is reminiscent of the 1988 movie Working Girl starring Harrison Ford and Melanie Griffith. In this part we have the evil boss who goes away for a few days giving an opportunity for both the prince and princess to get together and fall in love.
Related - Kissing under the mistletoe this Xmas!
In this movie Wendy is charming as the working girl doing everything right but falls prey to the ill intentions of her boss. Also an added twist is that the prince is unable to see the whole picture and misses on the subtleties of the relationship that is developing between the two of them. A tender part of the scene is when both come off the horse driven carriage and as they walk away, the driver says 'true love, it never disappoints'.
If you want a lift from a tender romantic tale then this is a good one to watch.
Tags: date, dating tips
Wednesday, January 16th, 2013
We sometimes forget that living in a land of plenty that some things are borne out of necessity while other things have been culturally influenced. Many would agree that recent events in gun killings and where typically 43 persons die each day from gun violence here in the US that some serious actions need to be taken.
Related Article - Buying a GUN Simpler than Finding a Date Online?
The US is probably the only nation that as an amendment clause that gives everyone the right to bear arms. This is understandable in the days when lawlessness was rife and we did not have the protection of the state police that we have today. However, are guns really necessary these days? I have spoken to a few advocates of gun use and they always seem to say the same thing which our great great grandfathers did and that is we need protection in case anyone invades our property. The intent to kill for any reason is abhorrent in my opinion unless you fear for you own safety and life. How does this equate to someone else's views especially if you are close or you are dating them.
There is no doubt that someones aggressive stance in acquiring and maintaining a gun reflects much in their personality. Is it really for the protection of the well being or is it an act of showing power. I believe in these modern times, it is the latter. If your date does possess a gun, you are likely to be dating a person who relishes power. On the other hand you may also be dating a person that has low self esteem and gets a boost from possessing firearms. Gun possession represents a symbolic power that most likely changes as soon as someone makes first use of it. Take for example the 1992 western movie 'Unforgiven' starring Clint Eastwood and Morgan Freeman. These two had-been gunslingers come across a young rookie who has never used a gun and shows off his prowess with the gun but goes into deep brooding as soon as he kills someone for the first time.
The use of firearms has to be for the right reasons, make sure you get the right answers from your date who does possess a gun.
Tags: date, dating partner, gun culture
Wednesday, December 26th, 2012
You liked her since the day you saw her. Every time you meet her, your heart beats faster. Settles those butterflies in your stomach by telling her you like her. The year is coming to an end and so tell her you like her before 2013.
Words and actions are as expressive of any emotion and when it is this beautiful emotion 'like', the eyes convey it the soonest.
Do's & Don't
Don't be in a rush to tell her you like her. Think of the times you enjoyed her company and what was common between both of you or what made you respect her a lot. Remember what situation she was uncomfortable in and avoid that kind of situation.
Women simply dislike men who are not confident. Find out from other women friends what kind of attitude turns them on or off. Accordingly analyze your special one and decide how you will express your romantic liking to her.
Check out these WingGirls video - How to tell her you like her
Choose a proper place to tell her how you feel about her. Telling her in the middle of the ocean in a sailboat or announcing through a talk show is only good for movies. Do not pressure her and be open to accept her response by telling her you would want to remains friends if not a closer relationship.
Do not expect an immediate response from her. It takes a while for the feeling to sink in and for her to understand if the feeling is mutual or not. If she doesn't respond then it means she does not feel the same way about you.
Say it with flowers or over a drink which will be in a relaxed environment for both of you. Put your romantic foot forward and tell her you like her before 2013.
Monday, December 24th, 2012
Americans are crazy about pizza but don't have the courage to make it at home. You can literally fall in love over a pizza and in a few instances fall out of love when eating the wrong pizza. There are over sixty nine thousand pizza joints all over America and almost 400 slices of pizza are eaten every second. The probability of falling in or out of love over a pizza is unimaginably high!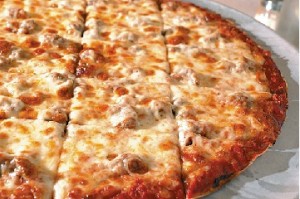 Chicago Thin Crust Pizza
This pizza is one of the most delicious pizza preparations. Variety of topping like pepperoni, mushroom, sausages, peppers, onions and cheese make this pizza look very appealing. When on a date don't make the blunder of ordering this pizza. The flaky, buttery crust makes it impossible to eat it with all table manners. Eating in an uncouth fashion is a sure turn off for your date.
Popping the full piece in the mouth will make you look like a greedy hog. Trying to cut the square piece into a small bite with a fork and knife will surely crumble the piece. A piece may go flying to the next table which will be a hilarious sight for all but an embarrassing moment for you. Avoid it!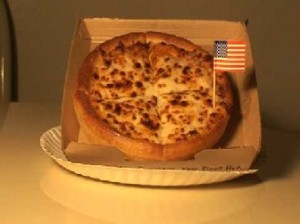 Pan Cheese Pizza
This is available in a healthier option of a whole wheat crust. This is great to impress your date with your knowledge and being health conscious as well. Safer still is to order a gluten free pizza as you never know he or she maybe allergic to gluten. Deep pan pizza is baked in a pan with squirts of oil. This makes it very greasy and becomes a mess when trying to eat with your hands or even with a cutlery.
Opt for a thin crust, medium pizza with toppings that are finely chopped when dating. You never know what can happen over a pizza!
Tags: casual date, date, pizza, thin crust
Wednesday, June 6th, 2012
When people join the service industry especially customer care, they train you for the special talent called as services NO. There are situations when a customer care agent cannot help customers due to technical challenges and need to be referred to an external party. This is where a straight "No" would make a caller irate and become very dissatisfied.
This technique can easily be used in our lives when you want to say no to your dating partner or you can call upon it whenever you want to dump your dating partner.
Here are top THREE ways to say a service No to your dating partner.
1. Tell your partner that you are not the best match for him/her. He/she deserves a better match for him/her than you. Explain with real life examples to give them a good chance to succeed later.
2. If possible try to find a better match from your common friends and then make them compatible with each other and for this you can recruit the help of some of the matchmaking algorithms of online dating sites.
3. At times your dating partner wants to settle down in life and the other would certainly don't want to get committed. This is a very ideal situation where you can take a different path without any real trouble.
Remember the art of service NO is to make the other dating partner feel that you are doing a favor to him/her. You should not make the other dating partner feel that you are doing anything wrong to him/her.
Comment of this article and tell us what are your ways to say a service NO to dump your dating partner.
Tags: customer care, date, dating partner, matchmaking algorithms, online dating sites, service no, The Most Sensible Way to Dump a Dating Partner