Posts Tagged 'dating site review'
Saturday, December 22nd, 2012
Look and Feel
A very simple and professionally designed dating site in UK which makes it possible to find precisely the person you are looking out for. A clean home page that tells you what is in store for you. Fast loading, easy to navigate and a relaxed feel this site offers. It gives you positive vibes that you will find the one that your heart yearns for!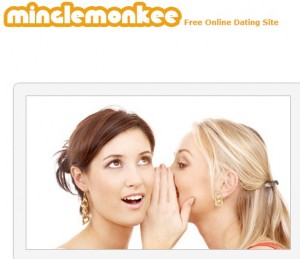 Registration Process
Requiring only two minutes to register, minglemonkee.com opens up the biggest platform to find a right date right from the comforts of your own home or office.
Choose a display name and password. The password must be minimum seven characters and a maximum of twelve characters. Type your email which will not be displayed or shared with anyone and your privacy will be maintained. . Your date of birth is required to calculate the age and the date of birth details will be kept private.
Other details required are county, town, postcode, gender, marital status and interest in men, women or both. Specify the relationship you are looking for like marriage, email, chat, long term, dating, friends or intimate encounter and you must upload an image to complete the registration. This site is only for residents of United Kingdom.
Saturday, December 22nd, 2012
Once your registration is accepted, go to the email id and find the confirmation mail sent from www.minglemonkee.com. Click on the link to activate your account and find your date for free. If you do not find the mail in your inbox please do check the spam or junk bin and move the mail to your inbox. Click the link to activate the account and experience the fun and stress free functionalists that are offered for free.
From setting options and profile you can update your profile with more details so it is easier and quicker to find a date.
Photo Profile Section
You have to upload an image when you register for free. Later on the member has the option to upload and manage images without any constraints.
It is simple and easy to manage your profile as you have a free hand to edit and view the same. You can easily upload photographs and manage the same for a better presentation of your profile.
Browse and Search Features
This website is very easy to navigate and browse. Easily search for the person using the basic search feature. This site is made interesting by other search options like new user search, smart search and lucky search. Browse the profiles of other members and find the person who interests and fascinates you.
Basic search lets you define the person you are searching for in an age group and what distance from your location. Smart search automatically find the person who matches your interests and displays the same. New member search lists the newly registered members and you can search by username as well.
Click on the picture or name to know more about the person. You can send a message to the person, like the person and also block the person. This gives you the freedom to communicate with only those whom you want to.
Saturday, December 22nd, 2012
Messaging
Sending message is free once you have registered here. Simply click on the 'send message button' and shoot across a personal message to the one that interests you.
The messages that you get are available for you to read or reply to in 'my message'.
Other Features
Managing your profile is much simpler and easier on this website. You can alter your profile and manage your setting as per your comfort level. Truly a fun and stress free site as you can manage your profile, your pictures, your contact and all your setting. On finding the right person, you have the option to disable the account so you do not receive further requests or mail. Unnecessary email communication adds to global warming so by disabling your account you can contribute towards saving the environment.
Member Base
www.minglemonkee.com is becoming one of the most popular dating sites in UK. With the easy of navigation and the fun and stress environment makes it easier to find a date. The member base is going up almost daily and gaining popularity amongst all the age groups. The reason of popularity probably is that real you can meet real people in the vicinity that you define.
Scores
| | |
| --- | --- |
| Ease of registration process | 4 out of 5 |
| Look and feel of website | 4 out of 5 |
| Available features | 3 out of 5 |
| Profile creation & completeness | 5 out of 5 |
| Matching System | 4 out of 5 |
| Overall Rating | 4 out of 5 |
Saturday, December 22nd, 2012
Ranking Statistics
Being a relatively new site, it is not yet ranked. This website is highly popular in UK as it is basically catering to the needs of UK singles who can easily find a date in their area.
Conclusion
This is a truly easy and fun web site for finding a date for free in UK. The site is very easy to navigate and browse. This makes it easier to find the person of your dreams most quickly. Total privacy is maintained as your email is not displayed anywhere. Anybody who wants to communicate with you has to use the send message option only.
You as a user have the freedom to block a contact if you do not want to communicate with him or her. You can upload your images and change them as often as you want. You can literally manage your contacts and images with a few clicks of the mouse button.
Overall this is a great site to find a date in a relaxed atmosphere from the comfort of home or office. The experience is fun and stress free and totally free too. No need to spend a penny looking for a date in your area. Register for free and find the person of your dreams right here quickly and easily.
Wednesday, December 19th, 2012
Truly Australia's leading website where you will find a date and never feel alone. It is a free dating site and the home page offers a free tour for you to know what is in store for you upon registration and will not tease you any further.
The homepage has photographs for registered members and you can view those photographs and the complete profile simply by clicking on it. You need not be a registered member to view the profiles but to chat or email you must be logged in.
Read full article
Tags: dating site review, Tease.com.au