Posts Tagged 'pof'
Monday, December 17th, 2012
Keeping the tradition going Google released their data of what the world searched, especially more comprehensive data on what USA singles searched online. Collected from different sources, Google search has fired a whooping 1.2 trillion searches in 146 different languages from Jan 2012 to Dec 2012.
The passion for free dating sites continue amongst US singles as Plentyoffish (POF) has again topped the list of being the most searched dating site followed by Match and OKCupid. eHarmony, which has been loosing market share in US is on the 4th spot amongst the most search dating site.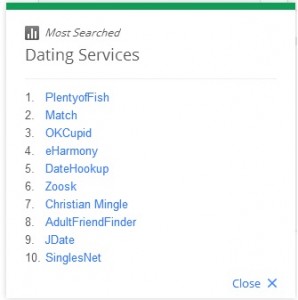 Christian Mingle and JDate are also amongst the top 10 which show that niche dating sites are also hot favorites of American singles. AdultFriendFinder is on the 8th spot that indicates that there are single or people who are in relationship looking for fun outside of their relationship and obviously don't want to get caught.
Check out the complete list of the most search topics on Google around the world in 2012 here - http://www.google.com/zeitgeist/2012
Tags: eharmony, okcupid, pof, top dating site search trends 2012, zeitgeist USA singles searching Trends
Sunday, March 11th, 2012
Do you wait for free online dating sites to send you the best matches and then you go about contacting them for a date? There is nothing wrong in doing this, but this shows that you are not so keen in finding your dating partner and would rather have a robotic match that only matches you by age, location and a few other interests.

Top dating sites like eHarmony, Match.com and a few others charge online singles for their dating profile as they work on a complex matching system, however leading free online dating sites like PlentyOfFish (pof), Datehookup,
Jumpdates
and others give online singles the power to choose their dating partner according to their own individual needs.
This is not to discourage you from joining any paid dating sites, but robotic matches has its limitation and you should be aware of this. It will only perform for you what it was programmed to do based on a few rules of matching criteria found in the profiles. Just to give you an example, there may be a profile that you come across that doesn't fit the normal criteria that you have stated in your profile, in which case the matching robot would have missed that profile altogether. This is why it is very important for you to do some of the searching yourself and decide what criteria work best for you.
Free online dating sites provides you with these kind of choices and their searching features help you to set the kind of match you are looking and give you the flexibility and scope to widen your search for pinpointing that ideal partner you are looking for.
Tags: Free dating, Free Online Dating Sites, jumpdates, pof, robot matchmaking, Still Using Robots to Find Dates...Is it the Only Way?
Friday, February 4th, 2011
Article Subject: Online Dating: Match vs. JDate vs. eHarmony vs. Plenty of Fish
Article Link: http://www.jewishjournal.com/keepingthefaith/item/online_dating_match_vs_jdate_vs_eharmony_vs_plenty_of_fish_20110203/
Website: Match.com, Eharmony.com, PlentyofFish.com
Dr. Dato's Brief:
The article is written by Ilana Angel who has been on the online dating scene for a number of years. She comments on the above sites mentioned but also talks about her experience with JDate which is a dating site catering to the Jewish. She didn't have anything good to say about that site.
In particular, her comments relate to how men can give misleading information on their profile and she has learnt to categorize the men into two groups; those with potential and those who are clearly not.
She praises POF (plentyoffish) website and finds it refreshingly different and thinks that this maybe due to the site being free where people are more likely to be upfront.
My 2 cents.. although these large dating sites cater to the masses, it can make finding the right partner a bit daunting. Without sounding discriminatory, I think dating sites should start thinking about organizing their members into specific groups or categories. Hmm, sounds like an idea for a great dating site, I wonder.
Tags: eharmony, jdate, match, pof, review of dating sites
Wednesday, February 2nd, 2011
I have to say that after reviewing quite a number of dating sites, this is what I expected as far as customizing is concerned. I can select the kind if theme I want, however for this I need to be serious member. This means, the more I visit the plentyoffish site, I earn activity points which will help me to become a serious member at the 5000 activity point. It would seem the idea of 'activity' which was first introduced by the pioneering dating site Jumpdates.com has now been utilized by most dating sites.
User can change almost every detail that he/her has filled right from basic details to personal detail, lifestyle, habits, contact detail, type of person and relationship you are looking for.
Users can setup the privacy settings of their account as user can block a person contacting them depending on their age, country, habits and type of relationship he or she is looking.
Photo Profile Section
Users can upload a photo from his or her computer. Photo is visible right away for other people to view, however the profile will be deleted by the website administrator if for some reason it does not comply with the terms and conditions of the website policy ie. nudity etc.
Tags: best free dating site review, PlentyofFish.com, pof, singles free dating sites review, teenage dating sites review, top free dating site review