Kissing under the mistletoe this Xmas!
It is strange fact that a plant such as a mistletoe which is a parasite in the plant kingdom is world famous for being host to millions of couples kissing under the mistletoe. How exactly did this pagan ritual which still continues today bear its origins?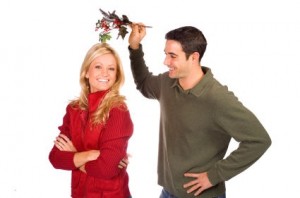 The use of mistletoe in rituals dates back to the Greek times where they have been shown to use it as a symbol of virility and often as an aphrodisiac. Through the passage of time the Norse, Celts and Druids have been known to use the misletoe as a herb and for other ritual practices. Men's curiosity to investigate natures offerings may have led them to figure out pagan practices that brings folks together. Folklore starts with an interesting story that is passed on from generation to generation. No doubt someone came out with a creative story of kissing under the mistletoe in the same manner that the bride throws a bouquet of flowers to the assembly.
Whatever the reasons maybe, people rarely question its authenticity or origin and stories like kissing under the mistletoe just seems so much fun. Invent whatever story you want to attract your sweetheart this Christmas and make that kiss the beginning of something warm and romantic!