The Royal Love of Mughal-e-Azam
Movie: Mughal-e-Azam
Director: K. Asif
Year: 1960
Stars: Prithviraj Kapoor, Dilip Kumar, Madhubala and Durga Khote
Snapshot of the Story
Movie is historical love story of Prince Salim (Dilip Kumar) and court dancer Anarkali (Madhubala). The highlight of the movie was it was half shot in black and white and half shot in Eastman color. The story of this movie has been modified a bit to give it an optimistic end. The movie shows how the Mughal prince Salim falls for the dancer of his father's royal court Anarkali and how his father brutally gives Anarkali the punishment of being buried alive for loving his son.

Storyline
Mughal-e-Azam was the most successful movie of the 60's with the towering performances from Dilip Kumar, Prithviraj Kapoor and beautiful Madhubala. Mughal-e-Azam is about Price Salim who is in love with court dancer Anarkali and wants to marry her. She is just a court dancer and she does not have status to marry a prince of the Mughal empire and is severley opposed by Akbar.
But on the other hand Salim was in deep love with Anarkali and wants to marry her at any cost and for this he accepts her father's challenge to fight with the Mughal troops. Akbar who is right on his part as how a prince of the Mughal empire marry a so call court dancer and Salim thinks from his heart and sees nothing wrong following his heart beating for Anarkali. The rift between Akbar and Salim was fascinating to watch. Every dialog was well written and more than anything else beautifully delivered by Prithviraj Kapoor and Dilip Kumar. Dilip Kumar is also known as "Tragedy King" of Indian cinema.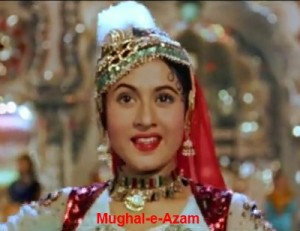 Madhubala was the queen on grace and beauty; she was one of the most beautiful actresses of Indian cinema. Madhubala was perfect for Anarkali's role as it needed someone with simplicity and grace to justify court dancers that do not have status make Mughal prince mad about her beauty. Unfortunately Madhubala died at a very early age with a complicated heart disease in London.
Final Thoughts
Mughal-e-Azam was one of the most expensive movies of 60's era and half shot in Eastman color. Mughal-e-Azam was one of the best classical movie of all time and this was also listed in the top 50 must watch Indian movies by www.imdb.com. Movie has given some unforgettable moments to Indian cinema and still inspires new directors and actors of our time. Director K. Asif was amongst very few directors in free India creating on screen magic with his excellent screenplay.
Rating
9/10
Kapoor family's film legacy
Tags: Dilip Kumar, Durga Khote, Enternal Love story of Salim and Anarkali, Madhubala, Movie reviews and Ratings of Mughal-e-Azam, Prithviraj Kapoor, The Royal Love of Mughal-e-Azam
This entry was posted on Saturday, January 7th, 2012 at 10:29 pm and is filed under Romance around the World, Romantic Movie Reviews. You can follow any responses to this entry through the RSS 2.0 feed. You can leave a response, or trackback from your own site.