Top 6 Resolutions for 2013 to Improve your Relationship
Why and how we fall in love is a mysterious thing but why we remain in love can actually be identified. The New Year eve can end with a kiss to usher in 2013 but what is next. Wondering what will happen to the romantic relationship in the coming year? Here are top 6 dating resolutions for 2013.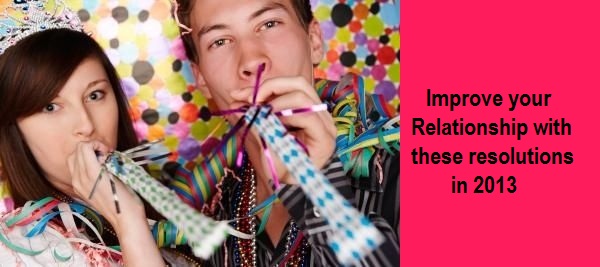 1. Honesty and Integrity- honesty is of great importance in a relationship and relationships cannot be built on dishonesty. Honesty is the strongest foundation for building a long term and stable relationship. Each partner must strive to lead a life with integrity where there is no discrepancy between their words and actions. Share all with your partner as sharing half truths are tantamount to lies.
2. Respect- Accept and value the other person for who he/she is. If you respect them, then only you can feel and also truly love. Don't try to change the other person and appreciate the other person for who they are and you will find that you will be falling in love with that person. Don't try to control each other by being manipulative but be sensitive to each others desires and emotions.
3. Be Open- no person is perfect. Be open in receiving feedback and take it positively for a lasting relationship but make sure it's not one sided. Being open and trusting go hand in hand. This develops strong relationships with the understanding of each others dreams and desires. Talk and discuss as it is not always possible for the person to read your mind and heart.
4. Affection- ideal partners are responsive to physical, emotional and verbal expression of affection. Extend the warmth of your affection and enjoy being close in a relationship with no inhibitions to make life more beautiful when you are together. Express your affection always.
5. Humor- a great sense of humor is the biggest savior of a relationship. Learn to laugh together rather than being offended when sensitive issues crop up. Nothing is more fulfilling than laughing with the person who is close to you.
6. Empathy- it is very important to understand and empathize with your partner. Identify what is common between you two and what are the differences which help you to develop a great understanding with the partner.
Online dating is one of the finer ways of building the foundation of a relationship. It is much easier to share and express your thoughts when the person on the other side is not seen. When meeting at a singles bar, each one is aware of the other person and body language conveys a lot. When dating online both are more open to express their emotions in words and may feel less inhibited especially at the beginning when face to face.
When a relationship breaks, it does make both the partners feel distressed and hurt. Don't jump into a relationship immediately when you break-up. Give yourself some time and 'grow up' to think and analyze yourself. Identify what went wrong in the relationship as one partner is never responsible for the relationship to come to an end. Don't repeat the same mistakes and follow these top six dating resolutions for 2013 and you may find the soul mate to share your life with.
Tags: break-up, dating, life partner, relationship, Romance