Top Dating Articles of 2012 on Jumpdates Blog
More and more singles are joining dating sites that has made singles searching for tips to create profile name.
More search for profile names
Shakespeare Got it Wrong…It is in the Online Dating Profile Names was the trendiest article on Jumpdates in 2012.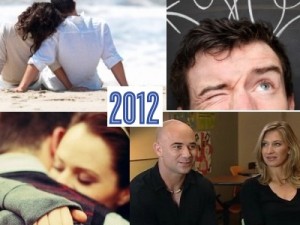 Adding more info to this trend singles are more interested in free dating sites and landed here 100 Free Dating Sites Sites - No Credit Card Required
Search for Sport Celebrity
Year 2012 was the year where people were intensely interested about the married life of Andre Agassi and Steffi Graf. There were rumors about their divorce but, luckily they were just rumors and they are still enjoying their happy married life.
What to do when you are in love
More girls and possibly boys searched what they should do or how to press their love when they fall in love as 5 Signs Girls Love their Boyfriends to do became the most popular social network read.
Language of love
They say love do not have any languages and was proved in the form of love shown in this Do you still think love needs a language? as there are so many human emotions that shows how much you love and online singles wanted to understand the human emotion also search Every Hug Speaks a Thousand Words
Don't forget to comment on this article to tell Jumpdates about your own views and opinions.