Returned 16 results for 'Monthly Archives: October, 2012'
Wednesday, October 31st, 2012
Browsing through hundreds of online dating profiles, examining profile pictures, remembering which profile offers the match for you, whom to contact, what to write in your first message and plenty of such questions would quickly become frustrating if you don't have the skills.
The next best thing you can do is to outsource it. Yes, you heard it right, and like other works where you ask someone else who has the appropriate skills and experience, why not on your online dating too!
Outsourcing is not a new concept and nor outsourcing to finding your romantic partner is alien too . There are companies making a profit out of this business and more and more jobs found on freelancer websites where you can find such a virtual assistance.

There are celebrities who outsourced their dating to professional virtual dating agencies. In 2007
Tim Ferriss
– NY Times best selling Author grabbed a lot of attention when we revealed the fact that he outsourced his dating to
Diva.com
.
From the top, everything looks rosy as you find a dating assistance that would do all the primary task of short listing the profiles, filtering messages and picking the right one that is a perfect match for you. They will help you in arranging the time, date, venue and even what you will wear. So what is next, will you hire their services to see how it feels on the first date or even how the kiss was. Will you able to know how the two of you can gel together and how chemistry with that person is?
Jumpdates cannot dispute the fact that there are singles that have benefited from services like these but we don't know how successful they were when they started dating. Also, it can cost you a minimum of $360 to $1440 per month which can amount to a hefty debt if you are not lucky enough to find early dates that have have the potential for a good long-term match.
Reference Article - http://www.msnbc.msn.com/id/36926587/ns/technology_and_science-tech_and_gadgets/t/no-time-date-online-outsource-it/#.UI_PhG_A9Co
Tags: dating surrogates, outsourced dating, romantic partner, Tim Ferriss, virtual dating agencies
Tuesday, October 30th, 2012
The recent review on "Why Men Love Bitches", a new story in the series on reviews of relationship advice books was fairly heated and made Jumpdates fans exchange their views on the blog and on Jumpdates Facebook fan page.
Don't take the literal meaning of the word "Bitch" which was said probably mentioned 10 times in the book as Sherry Argov wanted to spread that self discipline and dignified does not mean a bitch. We know what men like in their women from our previous article Act like a Lady, Think like a Man. Let's check out what women like and look when they are in search of a dating or romantic partner.
48% women voted that they think that opposites really attract each other. Only 16% said that they don't believe in this but 29% said that there is every possibility of attraction. While 7% are in a confused state of mind and cannot decide.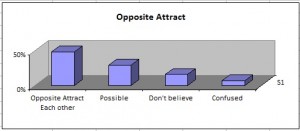 Sharing their thoughts on dating profiles, 44% are more interested in the age when they first see it as they want their partner to be closer to their age group. Whereas 30% give importance to education. 17% said that ethnicity would play a role in deciding on someone to go out on a date. Only 9% said that income is important to them, which is very surprising as we hear many relationship breakups because couples don't handle their money as well as they should. It is possible that deep inside women do have this important criteria but do not freely express it as it may label them as gold diggers, a quality frowned by most men.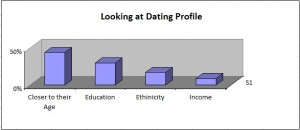 Women are obsessed of accessories but luckily for men they don't have to do much as wearing an expensive or stylist watch can attract 50% ladies that are looking for a romantic partner. 28% women love guys wearing baseball hats and only 5% like guys with piercings.
This poll was conducted by
http://www.perfectmatch.com which shows that when it comes to women they want their men to be nice and simple, call it as more natural rather than someone with a flamboyant lifestyle.
Tags: relationship poll, what women want, why men love bitches, women love guys wearing baseball hat
Friday, October 26th, 2012
Title – Why Men Love Bitches
Author – Sherry Argov
Summary
From the day one of her life women has been told and tuned to be nice to everyone especially men as it could bring them respect and love they need from men. However, the New York Times best selling author and famous talk show host Sherry Argov tends to disagree.


As name of the book suggests "Men Love Bitches" and nice girls are treated like a doormat while men are looking for dream-girls. The book is a series of Attraction Principles that tell women that begin nice would not bring them the dream men in their lives and they really should be practicing how to be a bitch. That breaks the myth every women have ingrained from birth, that if they are good to men they would respect them, love them and would never cheat on them. In this situation the definition of a bitch becomes extremely important which was very well explained by Sherry throughout her book.
A bitch is someone who is strong, can standup for herself, who knows her priorities in life, can carry herself with dignity, does not compromises on what she needs and doesn't chase happiness in life instead makes it her current priority. Don't confuse here that she only thinks of herself and does not respect others, of course she is looking to herself, but no more than what she would want herself. She thinks a lot before choosing her men rather than desperately looking for someone and then feeling guilty or falling victim to her own making.
This is a good book for all those ladies who are bored of being nice and did not get much in life being a nice person. Unlike our previous review of "He's Just Not That into You" which was a pocket reference, this is actually a book with 250+ pages and 100 relationship attraction principles.
What we can learn
The message is loud and clear from Sherry Argov that it's enough of being a nice girl and its times to be a bitch. Nice girl do not get what they want in life. She explained all this in the 100 relationship attraction principles that she believes are faced by girls every day and most of them fail to respond in the most desirable manner.
"Why Men Love Bitches" make those nice girls and ladies that being nice would never earn them the love and respect they want from their men. It makes those ladies seem like an easy catch and men usually love thrills and spills and women falling into the 'bitch' category do well. So rather be submissive, be assertive in what you do. It's like when women chase men they run away from them but when women starts ignoring men they feel attracted or want to win her as if it becomes the matter of ego and point to prove that they are better than others.
This book talks about things that actually makes women uninteresting to men. Things like being emotional and financially dependent, inability to speak their mind, being easily cajoled into sex (even after a couple of dates), not able to show their feminine qualities and plenty of other that men would love to see in ladies. It's not that men don't want sex, in fact sex drives their emotions but, getting it early in a relationship would result in less interest in the lady as he got what he needed.
We can call this a good bitch making guide as this talk about every little detail that girl would need to show, cultivate and master to be the most loveable women for her men. But again we should remember the definition of the bitch set by Sherry Argov.
Dr Dato's Comments
The best thing about "Why Men Love Bitch" is it's easy to understand and relate to the real life world. It never talks about those things that are fantasy or does not exist in relationship between a man and a woman. The way Sherry Argov has hand picked these issue are highlighted in her book and women can easily relate to the 100 relationship attraction principles and feel a sense of deja vous.
What turns out to be the biggest turn-off in the book is repetitiveness about lots of topics like – being independent, maintain their dignity, don't offer easy sex to men and few others discussed which at times kills the reader's interest.
Good news for men is that this book targets their interest from a females voice as author of the book knowingly or unknowingly talk about and provide advice to girls to do actually things that men want.
Although the word 'bitches' has been implied in this book, it should not be taken in it's literal form, since a complete 'bitch' is usually abhorred by many men unless they too have lost their complete sense of dignity and self-respect. Men are looking for a balanced woman who not only looks to her interest but her man too.
Rating
On a scale of 5 "Why Men Love Bitches" scores 3.5, actually it could have scored more as at times you feel that there is lack of material and a deliberate effort to stretch the 100 attraction principles which could have been wrapped up a lot sooner.
Tags: 100 attraction principles, Bitch making guide for girls, He's just not that into you, Men Love Bitches, Sherry Argov
Tuesday, October 23rd, 2012
Being single and ready to mingle is an easy tagline for all those who want to enjoy their single relationship status but for single parents it's much more than this. They are single but, they are parents too and they have the freedom of being single with a huge responsibility of being a parent.
Single parents often neglect their relationship needs which demands equal attention and as much as they give to their children. The online poll done by perfectmatch.com gives answers to all those critics who think single parents don't understand their priorities.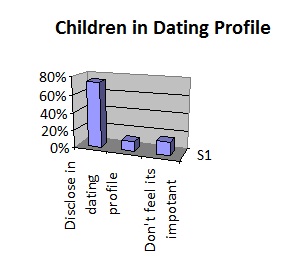 About 74% of single parents say that they disclose their children in their dating profile and 11% says that they do it before going on a first date. Asking a question on their divorce, 38% single parents say that they did not date enough before deciding to marry and 30% say they married to young. There are evidences that money plays a major part as 22% says there were financial pressures on them which leads them to divorce.
Disclosing on online dating profile presence, 37% of single parents say that their children approved it as 32% say that it was never a topic of discussion for them. 20% of the children are simply not happy with this and they don't approve this.
Children become a priority for single parents, they create their own world around them as 52% of single dad says that they would like to date someone who understand that children comes first and it's fine if lady they are dating don't have children. 27% dad says that she has to be youthful and show fun qualities. These answers in poll show the typical men's attitude towards relationship.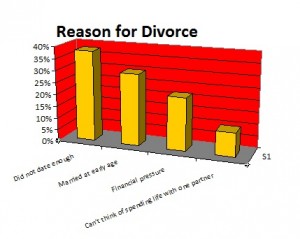 Asking the same question, single moms are practical because 60% of women are looking for men with a good attitude towards children and 16% of women are looking for men that have children.
This poll shows that single parents (more than 16 million) in US are aware about their children as a priority in their lives. They also understand that they need to have a life with a companion after all spending life alone is a tough job.
Comment on this article and tell us what you think about single parents and what advice you would like to give them to find their perfect partner.
Tags: men's attitude towards relationship, relationship poll for single parents, single parents dating, why single parent divorced
Monday, October 22nd, 2012
Do you believe that it's only men that cheat and women don't, there are plenty of articles on this and you will hear relationship experts, psychiatrist and other relationship pundits that are saying this but the fact is given an opportunity both genders are capable of cheating on their partner. The latest poll conduced by womensaver.com show some of this astonishing findings. Here are some of the answers and questions that were given to women of all age groups.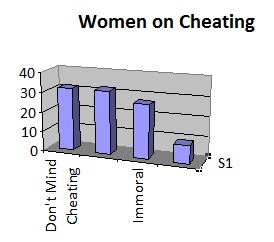 32% female said that they don't mind cheating if they can get away with it, similar number of women said that they won't cheat. 27% said it is immoral but only 9% out of the remaining 32% said that they would feel guilty. This show that the thinking of women are very similar to men and most would choose to do it if they felt that they would not be caught.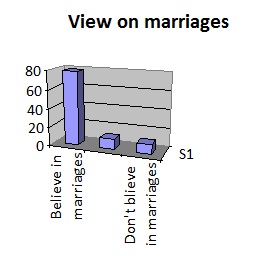 While asking on marriages, 79% of women said that they believe in marriages leaving only 11% with various opinions like marry to have kids or they don't believe in marriage at all. 50% of ladies don't wait for sex to call it a relationship after dating for a few times, whereas 12% says they don't like to call it a relationship until they don't mess with each other in bed. 11% women say they call it a relationship when he says I love you, which might take sometime.
Survey also show that 54% of the women says that hey caught their men cheating on them and 35% says they suspected them but were never able to confirm it. It is shocking to see that 67% females said that they fantasized having same sex relationship even if they were in a relationship.
Till date the survey was conducted on more than 16,000 women on http://www.womansavers.com. The women of Jumpdates.com can also contribute to this article here.
Tags: relationship pundits, women believe in marriages, women don't mind cheating