Returned 21 results for 'Monthly Archives: January, 2012'
Friday, January 27th, 2012
On a fine sunny Sunday morning you are enjoying your cup of coffee and making plans for your lunch and working out your evening plans, suddenly your door bell rings, guess who is there…it's your ex-boyfriend. He completely took you by surprise. Both of you broke up a few months back and since then no phone call, no messages, absolutely no communication. You are clueless about his presence and what is he doing at your place? You are pleasant about the whole thing and ask him to come in and invite him a coffee. You start to talk about life but no intention to reminisce and bring up the old strings. He spends half an hour at your place and before signing off he looks at you as if he is trying to say something, but just could not manage to do so.

You spend the entire afternoon thinking his reasons to visit your place, does he want to patch up with me? Is he wanting to come back to my life again? And what is my stand? All these questions give you a hard time or leaves you with sleepless nights. Many singles go through this situation more often or not and found themselves on "Love Square" where you contemplate going back to your ex. However, before you go back to your ex try to answer three top questions to avoid regrets down the line.
1. Do you have feelings for anyone else?
Answering this question is important because if the answer is in the affirmative then you are loosing an opportunity of creating a new relationship and there is no gain in going back to your ex. This gives you a strong reason not to go back to your ex.
2. Who initiated the broke up?
If you are the one who broke up with him for whatever the reasons then you need to find the reason you broke up with him which can also trigger the break up again and thus avoid such a situation in future that left you in a heartbroken state. You get big reasons to think if he was the one that broke up with you then why would he want to come back into your life?
3. What made him think coming back to your life?
You really want to get to the bottom of this question of why he wants you back? It could be that no one really felt comfortable with him or no one is interested in him? Or he just simply wants you back.
Getting back to your ex is not a bad idea if you are still single and not engaged with anyone else, but answering these top 3 questions to get back to your ex would help you to make the correct decision.
Don't let your relationship go to breaking point
How to rekindle a failing relationship - Dating Advice from Jumpdates
Tags: ex girlfriend, ex-boyfriend, going back to your ex, Top 3 Answers….Why Singles go Back to Their Ex?
Tuesday, January 24th, 2012
Creatures of night, hang out on Saturday night with beer mug in their hand, loud music to sizzle on the dance floor. In that loud music you notice a pair of eyes looking at you with same intensity. The music is too loud and the DJ is playing your favorites number, everything looks perfect. You keep the eye contact with your Mr. Attractive and find yourself that you are intoxicated not with the drink you hold but from the stare of Mr. Attractive. You spend some time on the dance floor before you find out that you are from the same group. That's the moment when your brain is swimming with some of you wildest dreams and makes you wake up and realize that this is "gonna be the perfect one night stand".

You walk towards your Mr. Attractive to mingle. As expected that night becomes your perfect one night stand with all you wild fantasies coming true with no strings attached whatsoever. But on the other afternoon when you are having a cup of coffee and trying to figure out what could be today's menu, suddenly you phone rings and guess who, it's the Mr. Attractive asking you to spend another evening with him. You think this could be more than a one night stand and in this you don't even think from where he may have got your number. On that Sunday evening you spend a great time and replay what you did last night with a thought in mind that is this could be start of something new.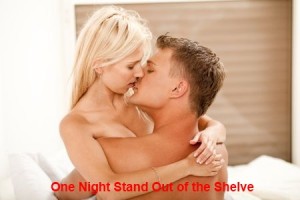 You try to call him on Monday morning and very unexpectedly no response from your Mr. Attractive which continues for a few more days more and this drives you mad, before you realize that you have come across the latest trend in one night stand called referred to as the "Two Night Stand". This "Two Night Stand" becomes very common among singles specially men who wants just a bit more from their share of fun. There could be a typical mentality to explorer more that just the "
One Night Stand
" as it happened to be by chance but the second night's activities happens by choice. This pattern is the reception of one' desirability, where a male finds from female's response to a "One Night Stand" knowing how vulnerable she is on first night. Here no one is guilty as the female liked the first night experience and could not resist or ignore the male invitation and of course the male feels lucky on his part.
Tags: casual relationship, Creatures of night, Mr. Attractive, One night stand, serious relationship, Two night stand, Two Night Stand…Out of Shelve for Singles
Friday, January 20th, 2012
Movie: Tanu Weds Manu
Director: Anand L. Rai
Year: 2011
Stars: R. Madhavan, Kangana Ranaut and Jimmy Shergill

Snapshot of the Story
New York based Doctor Manoj Sharma aka Manu (played by R. Madhavan) comes to India looking for an Indian bride. Manu falls in love with Tanu (Kangana Ranaut), but Tanu loves another local guy. Tanu request Manu to reject her and so he does. Movie takes the real romantic turn and becomes a romantic tale of Tanu and Manu. The on screen romance of Madhavan and Kangana Ranaut beautifully directed and equally well acted. "Manu Wed Manu" is a romantic entertainer.

Storyline
"Tanu weds Manu" on the front seems like an average story, but becomes special from the onset as every area of the movie has been well directed. Manu is a New York based doctor who comes to India looking for a bride. A typical Indian way to find the bride is to look for different girls and then choose the best one you like that fits your requirements. Manu starts looking at the potential bride Tanu and likes her very much. Manu agrees to marry Tanu but Tanu is not happy with this and has been in an affair with a local man. Manu comes to know this and rejects Tanu.
Later they both meet each again in a wedding as Manu comes to learn that Tanu is still single. Tanu ask for Manu's help to get married with her boyfriend. Somewhere bottom of his heart Manu starts to love Tanu and wants to make her happy. Tanu would be happy if she gets married to her boyfriend and he could not say no to Tanu
This complicated ride becomes the romantic tale as both Manu and Tanu start liking each other but could not share their feeling for each other. Romantic scenes of Tanu and Manu were beautifully picturized as they looked like a perfect couple. Kangana Ranaut has made a special presence on the silver screen in her short career and looked very mature. R. Madhavan gave a towering performance and looked the perfect cast for the role of Manu.
Final Thoughts
"Tanu Weds Manu" is a romantic movie released after a long time in Bollywood. R.Madhavan has a few romantic hits in South Indian cinema. R. Madhavan did not have any romantic movie after "Rahna Hai Tere Dil Me". Madhavan has been giving hits like "3 Idiots", "Rang De Basanti" and Guru. Kangana Ranaut is the pick of cast and fits well in the role of "Tanu". Kangana Ranaut gave a towering performance and she has matured as an actor since her debut in "Gangster".
Rating
Movie scores 7 out of 10 for its simple yet entertaining storyline, good music and best performances by all the actors. Story fails to score more as at times it becomes very slow and as an audience you feel like fast forwarding to the main scenes.
Tags: Jimmy Shergill, Kangana Ranaut, R. Madhavan, The Indian Romantic Tale - Tanu Weds Manu