Returned 16 results for 'Monthly Archives: November, 2012'
Monday, November 26th, 2012
Why and how we fall in love is a mysterious thing but why we remain in love can actually be identified. The New Year eve can end with a kiss to usher in 2013 but what is next. Wondering what will happen to the romantic relationship in the coming year? Here are top 6 dating resolutions for 2013.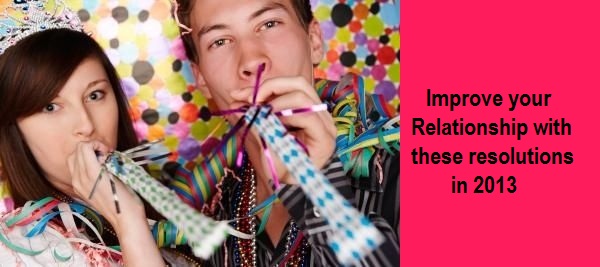 1. Honesty and Integrity- honesty is of great importance in a relationship and relationships cannot be built on dishonesty. Honesty is the strongest foundation for building a long term and stable relationship. Each partner must strive to lead a life with integrity where there is no discrepancy between their words and actions. Share all with your partner as sharing half truths are tantamount to lies.
2. Respect- Accept and value the other person for who he/she is. If you respect them, then only you can feel and also truly love. Don't try to change the other person and appreciate the other person for who they are and you will find that you will be falling in love with that person. Don't try to control each other by being manipulative but be sensitive to each others desires and emotions.
3. Be Open- no person is perfect. Be open in receiving feedback and take it positively for a lasting relationship but make sure it's not one sided. Being open and trusting go hand in hand. This develops strong relationships with the understanding of each others dreams and desires. Talk and discuss as it is not always possible for the person to read your mind and heart.
4. Affection- ideal partners are responsive to physical, emotional and verbal expression of affection. Extend the warmth of your affection and enjoy being close in a relationship with no inhibitions to make life more beautiful when you are together. Express your affection always.
5. Humor- a great sense of humor is the biggest savior of a relationship. Learn to laugh together rather than being offended when sensitive issues crop up. Nothing is more fulfilling than laughing with the person who is close to you.
6. Empathy- it is very important to understand and empathize with your partner. Identify what is common between you two and what are the differences which help you to develop a great understanding with the partner.
Online dating is one of the finer ways of building the foundation of a relationship. It is much easier to share and express your thoughts when the person on the other side is not seen. When meeting at a singles bar, each one is aware of the other person and body language conveys a lot. When dating online both are more open to express their emotions in words and may feel less inhibited especially at the beginning when face to face.
When a relationship breaks, it does make both the partners feel distressed and hurt. Don't jump into a relationship immediately when you break-up. Give yourself some time and 'grow up' to think and analyze yourself. Identify what went wrong in the relationship as one partner is never responsible for the relationship to come to an end. Don't repeat the same mistakes and follow these top six dating resolutions for 2013 and you may find the soul mate to share your life with.
Tags: break-up, dating, life partner, relationship, Romance
Saturday, November 24th, 2012
Pamper yourself this Thanksgiving weekend and make your weekend dating more exciting. Surprise your date with wonderful nail art designs and see the stars in his eyes which are brighter than the stars on the nails. Besides your health, nails can tell a lot. Convey your emotions to your special date with nail art. Here are the top five nail art for Thanksgiving weekend dating.
You don't need to be a sculptor to create these simple and amazing nail arts. Keep in mind these simple tips and create your own art. Use nail glue to apply metallic studs. Use the tip of a sewing needle to make small dot. An old, used pen refill work beautifully to make lines or bigger dots.

Keeping in trend with Thanksgiving weekend dating, the top rated is a faded two color with blue and gold. Sponge the tips of the nails with gold while the glittery blue will give the actual sparkle.
Every pink has a silver lining is the nail art for that romantic weekend dating. Makes the fingers and nails look longer and artistic.
For a stunning image, apply black as the base color on nails. A glittery red heart in the center with silver dots all around will literally make you stand out.
For a sober but eye-catching look to the hands, paint the nails in a shade of baby pink and make flowers in white. Coat this with transparent glitter.
Add romance to dating with different hearts on each finger. Base color can match with your outfit while the white remains common.
Make sure your conversation is interesting enough for him to look at you and not just your hands when you are out on a date on this Thanksgiving weekend.
Tags: dating, nail art, shopping, Thanksgiving
Friday, November 23rd, 2012
After enjoying Thanksgiving with the family, it is not the time to feel lonely. Make Black Friday dating more fun and interesting. Officially Black Friday is considered to mark the beginning of the shopping season. Christmas being a few weeks away, shopping is a top priority. Add more spice to your life by combining shopping with dating.

With over indulgence in food it is always nice to take a break and go to the beach or get involved in some adventure activity with a companion. Black Friday gives that opportunity to eat, drink, shop, indulge in some activity and have some fun time. Find the person who believes in this and go on a date with him or her with members on this dating site.
Why shop alone when you can find a companion to make shopping more enjoyable. Being the last major holiday before Christmas, make it more fun and exciting with a person whose interests match yours. Go on a date with that person and add a new dimension to the way you shop.
Make Black Friday memorable by spending time in activities that you enjoy and they become more enjoyable when you have a date to share with. Make the most of this holiday by adding some adventure to your day. Drive around the region, enjoy the wine at the winery, shop at a different place and make this Black Friday a memorable and an unforgettable day.
Black Friday continues the holiday mood for one and all, so spending time with the right person gives you insight into the person's thinking and yours too. Dating on Black Friday can help you find not only a date but probably a life partner too as the mind is more relaxed and open. Enjoy Black Friday dating and make the day more special
Tags: black Friday, Christmas, dating, shopping
Friday, November 23rd, 2012
Thanksgiving dates back to 1621 when a group of English people came and settled in America in 1620 during the rough winter conditions. Most of them could not survive but those who did, attempted to grow crops for sustenance though they had no knowledge of farming in this new frontier. The Wampanoag tribe came to their rescue and taught them the method of farming.

The new settlers got a bumper harvest and wanted to thank the Almighty and express their gratitude to the Wampanoag tribe as well. All were invited to the grand feast where the natives brought their own harvest food as well. This is how the custom of Thanksgiving was born.
Thanksgiving is celebrated in America on the fourth Thursday of November and is a time to have fun with loved ones and friends. The family gets together to give thanks to the Creator and spending quality time with family. Thanksgiving dinner is a complete family affair and Thanksgiving gifts are mainly gifts related to the table to make the dinner experience more enjoyable and memorable.
Thanksgiving changed over the years with people expressing their gratitude towards family and friends along with thanks to the Almighty. Families get together on Thanksgiving and enjoy the traditional sumptuous meal that have been painstakingly prepared. Later, friends too were invited over to join the Thanksgiving dinner with the host preparing the traditional Turkey and the friends who came over would get gifts for the host. Traditionally gifts brought were wine bottles, table cutlery, centerpieces or fruit baskets.
Gifting trends have changed with change in technology. Electronic gadgets and appliances have gained popularity as Thanksgiving gifts due to its high versatility.These now include music players, game consoles, tablets and kitchen appliances too. The son chooses to gift his father with an iPad!
A long weekend for Thanksgiving has made it very convenient to make it a travel weekend. It is one of the busiest times for travel for most people. Remember to plan your holiday well in advance. With so many getaway options available a lot of dating couples gift a holiday to their partner.
Expressing gratitude through gifts has always been the norm. With the change in lifestyle the trends in gifting has changed considerably. The scope of gifting has further narrowed down to men, women and kids.
A guy can be gifted wine tumblers, bar set, engraved wine bottle stoppers, monogrammed party plates, thermometer, tool set, photo frames and eatables. A woman can be gifted knive sets, electric knife, napkin ring sets, wine bottles, gourmet herb garden basket, wine stoppers, cookware, pitcher, place-mats, cookie jars and a whole lot of eatable goodies. For the teenagers nail art patches, boxers, candy or lollipops make an acceptable gift. For a child it can be books with pictures and clothes.
Unique Thanksgiving gifts which are eco-friendly too have become highly popular. There are re-usable paper plates, organic fruit basket. Others unique gift options are universal remote control bottle opener; nail patches, set of olive oil, ceramic decanters, Swiss cheese boards, cheese plates and bottle openers. For couples who are dating, a weekend spent together at some destination as per the interest of both is one of the awesome gifts that can be given for Thanksgiving.
Thanksgiving gift basket can be loaded with various gift articles besides the traditional one too. The change in thinking and attitude towards life has a tremendous impact on Thanksgiving gifts that have become more utility gifts rather than simply following the tradition of restricting the gifts to table gifts.
"Gratitude makes sense of our past, brings peace for today, and creates a vision for tomorrow."
—Melody Beattie
Thursday, November 22nd, 2012
Title Hooking Up
Author- Kathleen A Bogle
Summary
With changing times, the laws of society with regards to what is acceptable have also changed considerably. Earlier just a peep of the stocking was shocking but today anything can go and won't be as shocking. Values have changed and the change can be definitely scary. Finding mates was monitored by the family and society which forbade intercourse until marriage and there was a limit to physical interaction too. Today what we see are many teenagers that have already lost their virginity by 18.

Dating was a norm for the lower class but it was a way to rebel for the upper class. They went on a date away from the watchful eyes of the girl's mother. The mother usually decided if the guy was good for her daughter or not and only if he had a good futures could he could get married. All this changed as romance took place and sex was the topmost of the minds of most youngsters. Men were seeking sexual gratification while women were looking to get expensive gifts and money with attention splurged on them.
Earlier, the mother controlled who her daughter met; it changed to the peers deciding the power and degree of sexual intimacy. Dating in college has no boundaries as a lot of women too started going to the same colleges as the guys. Hooking up became more fun and frolicking rather than a romantic and intimate relationship.
Sleeping with the partner overnight is a choice of the individual and is perfectly acceptable without any undue attention. Some may choose to sleep over, some may prefer to go back home. Each person can decide the level of intimacy that is permitted by them. There are no set norms and each is free to decide depending on their own beliefs.
Developing a serious relationship is least probable from a hook up. Hook ups are just casual spending time together with no intention of a serious relationship. Of course some may develop into a serious one but most of them don't.
The trend to marrying later in life is probably responsible for this hookup culture. With so much freedom of thought and action available today, men and women indulge in sexual interaction for the fun of it and not with any emotions involved. They are clear when they want to marry and what type of a partner they want. Hooking up is just a way of life amongst the students today.
Few students are not part of the hookup group as they may probably be in a relationship already or their religious beliefs do not allow them to enter into such intimate physical relationships. There can be no generalization on the hookup scenario.
The 1970s can be called the era of sexual revolution where women learned to embrace their sexuality. This bought a change in cultural behavior. Men and women both indulged in double standards as the confusion regarding sexual relationships kept changing.
It tells us the difference between dating and hooking up and where this trend has lead to the students of today. This book provides a fantastic insight into the thinking process of the college student's generation.
What We Can Learn
Dating trends changed with the times. Dating that was monitored by the elders in the family got influenced by peers. Hooking up can be defined as spending time with someone and indulging in physical interaction without emotional content. Physical interaction could mean just kissing or even sexual intercourse. Racial minorities and very religious minded students have successfully kept away from the free thinking hooking up era.
Hooking up is a vague term and is used by students to define various sexual activities. It is a path to a romantic relationship with no guarantee of commitment. It is not necessary to know the person prior to hookup. You may meet that person that very evening and just decide to spend time together.
Know the difference between hookup and dating. Follow your mind to know the subtle difference and its consequences. What are the double standards when you fall into a physical relationship, understand them so that you are not hurt and you are more emotionally balanced.
Dr Dato's Comments
Dating was a culture until the 1920s. The girl's mother decided who her daughter could meet and identified the qualities of the potential guy whether he was suitable for marriage. The guy had to visit the family when invited by her mother and follow a set of protocols. With time this changed when the man and the women decided to meet outside the house. This was a rebellious behavior which gave the young men and women the power to decide their paths in life.
With this new found freedom, the norms of dating changed. This casual relationship with the opposite sex was generally called hook up. Hook up can cover the extremes like just going for a movie together or having sexual intercourse.
Women are more emotional and they search for a commitment in a relationship. Men are just fine with casual sexual relationships. Women when hooking up must keep the consequences in mind and understand the guy's thinking. The guy is looking out for a casual physical relationship with no strings attached. If only the one night stand is acceptable to your mind, women should go ahead with this hook up or they are heading towards depression.
The hook up scenario is based on physical attraction only. After a few drinks at the college party, the men and women find each other more attractive. This physical attraction leads to spending time together and results in a physical intimacy instant sexual gratification.
Condition your mind that this is just a one night relationship and do not expect any commitment from either partner.
Rating
4 out of 5 points as this book explains well the whole concept of hookup that is followed at college campus around the world . A must read for all students and even those in a relationship to be able to identify the thinking process of college goers.
Tags: dating, Kathleen A Bogle, relationship book, sexual, society