Dating Site Reviews - Loveonline.co.nz
Look and Feel
Pleasing color scheme, nice page design which has no clutter even though there is all the information available on the home page itself holds the attention of the visitor on this site. This site has links to twitters, FB, Yahoo on the first page. You can easily connect with your friends.
Ease of navigation makes a site comfortable to surf. This website is very easy to navigate and systematically lets you find your love for the evening or for a lifetime. Register for free and start searching for your love here.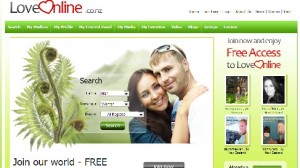 Registration Process
The registration on this dating website is easy, free and quick so you can find a date or mate from all those registered members. Choose your username that will be the display name, password, your real name and surname (which will not be displayed for your privacy), date of birth which is not displayed but used by the website search engine to calculate the age.
If you have a Skype id then you can Skype for free. What is better than talking with a person you can see even if that person it at the other end of the world! See him/her and know him/her better.
Input your personal details like country, physical characteristics, education, income, drinker, smoker, drugs etc. The gender you are searching for to date. It is always to write a short introduction about yourself to find a person whose interests match your.