Posts Tagged 'online dating profile'
Sunday, January 6th, 2013
Getting your personality across from your online dating profile can be a challenging task. Your photos and description may give you a good idea of what your personality is like but nothing can beat a video.
In the early 80s video dating was a huge phenomenon and many dating companies would take video interviews of people to add to their large portfolio list. They would show other members potential dates including their video interview for a cost. This continued for a while and was hugely popular but it quickly faded as quickly as it came. There were a number of reasons for this and this included the length of time it would take to sit through the videos. The other main reason for its demise was due to the matchmaking company not being able to select the right people for each other. Matchmaking is one of the hardest things to do because as explained in previous blog compatibility figures in online dating sites, it is very difficult to match people together because of the complex nature of human beings.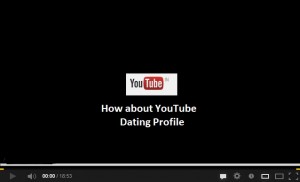 One important aspect that video dating was missing was conveying the personality of the individual in it's own comfortable setting. There is something to be said that a picture is like a thousand words and the same can be said for videos. However the essential missing point is what the picture or video shows to the viewer. Here, we will show you how to create the perfect video that is sure to bring out the best in your personality. If you reflect back to the time when you had the most fun, you would surely mention an activity or fun thing that you have always loved and enjoyed doing. This should be the starting point of your personality video that you are going to make and put onto your dating profile.
Firstly, pick out one of your favorite topics that you can talk about and demonstrate without too much trouble. If you don't have someone to record, then put your digital camera on a tripod and record your video this way. It's much simpler than you think. Make sure there is sufficient light for the video and that its easy for viewers to see without squinting. Run a few tests before doing the actual video or do several videos and edit them online using the popular Microsoft video editing tool. The video doesn't have to be aimed at your face or the whole body, it can point to the table where you are doing some activity. The important thing is that your voice is clearly heard or you are providing the right instructions in the video overlay. Add music to the video to make it interesting but this is optional. Check out some videos here Paintology with Fred
The next part of the task is to upload your video and adding a link to your dating profile. Uploading a video to YouTube is a simple task. Once the video has been finalized which will be usually in mp4 format, you can simply go to YouTube.com, setup an account if you have none and you will be ready to upload your video. Give it a title and short description and you are done. Once you have uploaded you will have access to a shared link (below the video) which you copy and and paste into your dating profile. On the dating profile of your dating site, go to the section where you can describe more about yourself or hobbies and add a brief description along with the link to the YouTube video.
Thats it! You are now a unique member which will make your dating profile stand out from the crowd and will have curious members opening up your video. Don't worry about creating the perfect video since you are not running for the Oscars, you are just trying to convey the best in your personality through this homemade video. This is a valuable piece of information which static online dating profiles cannot do just by itself.
Tags: dating, matchmaking, online dating profile, YouTube
Thursday, April 12th, 2012
You have read plenty of articles to decorate your online dating profile as every article claims to make your online dating profile more and more appealing. However, it depends on what fields free dating websites give to their users. What I mean is, it depends on the user's only availability in getting spaces to fill basic info or something out of the box.
A new trend that seems to be creeping upwards for free dating websites is to have couples profile page and the first one to use this innovative idea is Zoosk. They have recently lunched the couple profile pages asking couples to showcase their romantic journey of dating and relationship.
There is nothing wrong is these sort of profile pages but, apart from looking sweet I wonder what would the future of these couple profiles be like on free dating websites. Wonder why online singles want to visit these pages in the first place and even then they usually visit online singles with these pages. Certainly you don't want to break any relationships to create a new one for yourself. Only time will tell what would be the future of these couple profile pages on free dating websites but for now, it look like a flower pot with artificial flowers growing in your living room.
Tags: After Making a Match Free Dating Websites Wants to Celebrate New Relationship Status, couples profile page, free dating websites, future of these couple profile pages, online dating profile, romantic journey of dating and relationship
Wednesday, March 28th, 2012
It is said that music can move you to a high which explains the countless number of people we see everyday with earphones plugged to their ears. If music is such a passion of yours, why not mention it on your free dating profile?

Music says a lot about our personality and our taste in a specific genre of music can reveal more truths about ourselves than just simple factual information placed on our dating profile. It's no wonder that some dating websites and social networks have sprung up just to cater to music lovers only, for example tastebuds.fm.
Music has become such an important facet of our daily lives that many people cannot do without, some even take it further and go dancing. In addition to listing your favorite bands also mention the types of dances you prefer, for example, Cuban music is associated with salsa dancing. Also tango music coming from Argentina is associated with the very famous Argentinian Tango dancing. If the music takes you one step further where you are unable to stop swinging your hips, why not try and locate some dance instruction classes near where you are. Who knows, in addition to your presence on the online dating community of free dating sites, you may also come across interesting people to date from those venues.
Related Dating Articles
Online Dating Briefs by Dr. Dato - Love the one who loves what you love
Free Dating Site Review – Tastebuds.fm
Where else outside of online dating can I look for potential partners
+++++++++++++++++++++++++++++++++++++++++++++++++++++++++++++++++=
For more from Jumpdates, follow us on Twitter @Jumpdates_com
Be a fan on Facebook to get latest dating trends - http://www.facebook.com/Jumpdates
Tags: More tips for single music lovers on free dating sites, online dating profile, salsa dancing and, tastebuds.fm
Saturday, March 24th, 2012
I was recently browsing the internet through one of those popular tablets that has become the craze these days. It occurred to me, the simplicity and elegance of what can be achieved with simple strokes and gestures of your fingers.
I came across some free dating sites where my profile had been posted and because the tablet I was using was fairly large, I think about 10 inches, I didn't bother downloading the free dating site apps. that usually come with these websites. I was simply enthralled at how swiftly I could go from one profile to another, stop at one profile, zoom in on the photo and then flick to another profile. If you are used to a mouse like most people are , you will simply not believe the combined power of the tablet and your fingers. Apple definitely created the tablet market and now all the companies want a piece of the cake and their popularity is not over hyped at all.
I breezed through what effectively were fifty or more profiles in maybe less than a few minutes, something that would have been fairly tedious with the mouse. The versatility of the tablet medium cannot be emphasized for all those singles out there that have their profiles on all those free dating sites. I would strongly suggest you invest in one of these tablets, it simply makes online dating such a pleasure. Although, I could not tell you about the actual date, now that would be a whole different story!
Tags: Am I selling Tablets or just Free Dating Sites?, online dating market, online dating profile