Posts Tagged 'eharmony'
Friday, January 4th, 2013
2013 will be an excellent year for online daters for several reasons. Firstly, the choices available to online daters will be more than 2012 fueled by the demand for services catering to smartphones and tablets. To be in this crowd, make sure you invest in a good smartphone and fortunately this cost is coming down each day. You will be able to get a smartphone for around $50 which is affordable for most pockets. As for tablets, these too are coming down at an alarming rate and an 8" Android tablet can be had for under $70. This means that you are equipped with the right tools to track down your ideal partner.
With these essential tools in your hands, make sure to visit the app store. If you are lucky to sport the iPhone then you need not look any further than the apple store. Start of with free apps for singles rather than the paid version. Some of the large online dating companies offer free apps to do a search for mates such as match and eharmony. If you have the Android phone, then you also have a wide choice. Start off with Google play store to do a search for free dating apps. One that you may like is the Jumpdates app which gives you the ability to search in your local area.
Make sure that apps you have downloaded and installed for the smartphone are also installed on your tablet. Some of these apps will have alerts that you can set up and in the same way that you get an alert for text messages, you will also get a similar beep of anyone contacting you. This is really powerful and makes dating on the go exciting and fun.
There is so much potential from searching using your mobile phone and tablet. 2013 will have more players offering services through the mobile service and you should not miss out on this. It will get you more dates than ever before but it's important that you take some actions. Keep your ears peeled as we post more information on this and other great tips to get your dating for 2013 to a flying start!
Tags: eharmony, free Dating app, online dating
Monday, December 17th, 2012
Keeping the tradition going Google released their data of what the world searched, especially more comprehensive data on what USA singles searched online. Collected from different sources, Google search has fired a whooping 1.2 trillion searches in 146 different languages from Jan 2012 to Dec 2012.
The passion for free dating sites continue amongst US singles as Plentyoffish (POF) has again topped the list of being the most searched dating site followed by Match and OKCupid. eHarmony, which has been loosing market share in US is on the 4th spot amongst the most search dating site.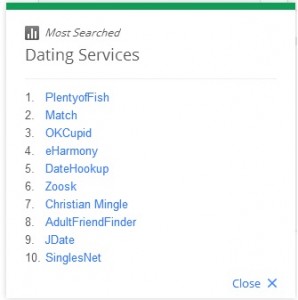 Christian Mingle and JDate are also amongst the top 10 which show that niche dating sites are also hot favorites of American singles. AdultFriendFinder is on the 8th spot that indicates that there are single or people who are in relationship looking for fun outside of their relationship and obviously don't want to get caught.
Check out the complete list of the most search topics on Google around the world in 2012 here - http://www.google.com/zeitgeist/2012
Tags: eharmony, okcupid, pof, top dating site search trends 2012, zeitgeist USA singles searching Trends
Tuesday, March 22nd, 2011
Article Subject: Free dating sites - what does it mean to the average user?
Dr. Dato's Brief:
Most people when they sign up to Jumpdates usually type in 'free dating sites' in the search box of Google, Yahoo and Bing. The users will rely on the accuracy of the search engine to return relevant results related to free dating sites and is often a measure of the search engines 'quality'.
I started thinking what represents 'free dating sites' to people, in other words what is the purpose or aim of the user when they type in 'free dating sites'. My thinking is that they are obviously looking for dating sites that are free and most likely totally free with the intention of signing up to the dating service offered by the results from the search engines.
If you type the words 'free dating sites' into the Google search engine, you mainly get all the free dating sites on the top 10 results or so, however, I did notice that eharmony showed up in the results. We all know that eharmony is not a free dating site, so why did Google list this dating site near the top?
Upon further investigation, I discovered that Google did not in fact take the entire words in its literal sense but actually picked out snippets of the words from sections on the site. One could argue if that results in a good selection of results, but the fact that Google did pick out a dating site is credit to them.
Tags: eharmony, Free Dating Sites, jumpdates, online dating sites, search engine results
Saturday, February 12th, 2011
Article Subject: Online Dating: You Better Shop Around
Article Link: http://www.palmbeachpost.com/money/shopsmart/online-dating-you-better-shop-around-1233548.html
Article Rating: 4.0 (out of 5)
Website: none
Dr. Dato's Brief:
These are interesting statistics for the user who wants more information before taking the plunge into the three of the top dating sites available today, match, eharmony and chemistry.
Here is a summary of the stats:
| | | | |
| --- | --- | --- | --- |
| | match | eharmony | chemistry |
| cost | $34.99 for one month; $19.99 per month for three months; $16.99 per month for six months. | $59.95 for one month; $39.95 per month for three months; $29.95 per month for six months; $19.95 per month for 12 months. | $49.95 for one month; $33.32 per month for three months; $26.65 per month for six months; $20.83 per month for 12 months. |
| member stats | 29% are under age 30; 51% are 30-49; 20% are 50+; 79% have some college or college degree; 56% do not have children; 23% have children who at least sometimes live at home; 19% have children away from home. | As a privately traded company, eHarmony does not disclose member statistics, according to Paul Breton, Director of Corporate Communications for eHarmony. | 20% are under age 30; 47% are 30-49; 33% are 50+; 84% have some college or college degree; 54% have children. |
Tags: chemistry, costs reviewed, dating member stats, eharmony, match
Friday, February 4th, 2011
Article Subject: Online Dating: Match vs. JDate vs. eHarmony vs. Plenty of Fish
Article Link: http://www.jewishjournal.com/keepingthefaith/item/online_dating_match_vs_jdate_vs_eharmony_vs_plenty_of_fish_20110203/
Website: Match.com, Eharmony.com, PlentyofFish.com
Dr. Dato's Brief:
The article is written by Ilana Angel who has been on the online dating scene for a number of years. She comments on the above sites mentioned but also talks about her experience with JDate which is a dating site catering to the Jewish. She didn't have anything good to say about that site.
In particular, her comments relate to how men can give misleading information on their profile and she has learnt to categorize the men into two groups; those with potential and those who are clearly not.
She praises POF (plentyoffish) website and finds it refreshingly different and thinks that this maybe due to the site being free where people are more likely to be upfront.
My 2 cents.. although these large dating sites cater to the masses, it can make finding the right partner a bit daunting. Without sounding discriminatory, I think dating sites should start thinking about organizing their members into specific groups or categories. Hmm, sounds like an idea for a great dating site, I wonder.
Tags: eharmony, jdate, match, pof, review of dating sites