Posts Tagged 'Romance'
Saturday, April 27th, 2013
Sweaty palms, butterflies in your stomach and a nervous state of mind are somethings both single men and women experience before going on a date and it is most common when they are going to meet someone for the very first time. Music is the best way to get relaxed and get positive vibes before leaving your house on a date night.
Here are top 5 must watch romantic videos
[For some you might not understand words]
1. Why don't you start off with Celine Dion's sensual song that stormed and made an especial place not only in America but touched everyone's heart worldwide. My Heart will Go On will set the right mood and give you that positive energy you are looking for. If you love Celine Dion you have another precious gift from her collection – The Power of Love.
2. Indian movies are famous for their on screen romance. Check out this Indian romantic song where Sharkrukh Khan and his co-star have just fallen in love at the first sight of each other Video1. You can't ignore this as well, where these love birds want to stay together all of their life Video2.
3. They say old is gold and how can we miss the classic Heaven by Bryan Adams. This 1985's original version was re-invented by DJ Sammy and Yanou but did they do justice to that? How can we forget this poor boy in Elton John's classic Your Song.
4. This is why you love Taylor Swift – Her Love Story. This is perfect for those teens who just started dating and want to have a high dose of romantic vibes before they step out into the real cruel world.
5. Get painted in colors of Lady Gaga's Bad Romance. You can't call this a romantic song but, what is saying is there are no boundaries and that is how love should be.
If you still want an overdose of romance check out this collection. Don't forget to take a shower, dress well and wear a smile leaving your house and yes make sure you have your wallet to avoid drama and end up loosing your chance for another date.
Tags: date night, dating, Romance, romantic songs
Friday, April 12th, 2013
The words 'economics of love' raises lots of eyebrows of those who believe that love is unconditional and those who seek benefit from love is the not right person to live with. It is right but, being in love is different then spending life with a loved one. Again, this is contradiction that many believe.
To understand this better, let's check out the cycle of relationships and the role of human emotions
Attraction Phase
We use the word "Falling" in love because the looks and charm of someone can sweep you off your feet and you get attracted towards that person unconditionally. It is a situation hard to control by both men and women and ones logical decision making takes a hit.
Idealize Positives
This is the key phase of any relationship and generates enough power to get through new phases. In this phase lovers get attracted toward and in every trait and most of the time they see all good things. Lovers also compare their lover with someone they often visualize in their dreams.
Reality
This is the most thought phase but at the same time can be the most result oriented phase. In this phase couples come closer to each other and start going out and realizing their dreams of being together, however for some it creates space issues. They start to realize that they are not getting enough time for themselves or it's not about me anymore and it is about "WE" where they may have difficulty in handling.
Suddenly they start asking questions such as "am I with the right person?" This is where economics of love play an important role. Here, everyone has to choose from either choosing the right person to love or loving the very person they found.
Choosing the right person for love is difficult as there is no perfect lover and even if you find one and go with the rule of choosing the right person there is every possibility that you won't like his or her smile or the kind of friends he or she keeps. That is why love can be termed as "falling" in love and you need to take a "decision" in being love that makes you an economist of your romantic relationship that is going to pay you high dividends in years to come.
Check out flip side of love - what is Love
Tags: love, relationship, Romance
Wednesday, February 27th, 2013
Call her the princess or the king of your universe. This bundle of joy changes the perception of the couple the moment he/she is delivered into this world like a little rat with all mucus and slime around. The feeling of elation and the emotion at that moment is to be experienced as no words can express that. The world comes to a standstill, the brain goes numb and the heart pounds out of the rib cage, literally. This emotion, feeling, state of mind can be compared to falling of love or being proposed but 1000 times over!
Expectant parents spend months together preparing for the baby's arrival. The happiness cannot be contained on either of the parent's faces when they come to know that they are going to become three people from two. The couple starts caring much more for each other and plans what they can give best to the child. The life starts revolving around the new guest who will be an integral part of their very being.
After nine months of waiting, the arrival of the new born enriches the life and the couple experiences a new kind of love that is not thought to be possible. Finding the right person has become easier through the online dating sites. Dating regular builds the relationship and understanding. Romance brings both of you together and the baby is a true sign of your love. The elated parents can't keep their eyes off each other and wish that parents got another set of eyes to keep on their new baby too!
Beware all is not as rosy as the child requires more attention and keeps you awake at night. This may become stressful for both parents and may be a bone of contention. Keep in mind that is your spouse/partner and your child so don't let this teething trouble ruin the beautiful relationship. Don't let the routine, less spontaneous lifestyle affect your relationship. Focus on the closeness and bonding that this new born has revived thereby adding more meaning to your relationship.
With so many emotions acting together, the relationship gets renewed and revived. Babies are small, fragile, and helpless but they have such a powerful impact that the couple gets transformed into parents. The baby brings the couple together, even more closely and changes the nature of friendship and understanding too.
Monday, November 26th, 2012
Why and how we fall in love is a mysterious thing but why we remain in love can actually be identified. The New Year eve can end with a kiss to usher in 2013 but what is next. Wondering what will happen to the romantic relationship in the coming year? Here are top 6 dating resolutions for 2013.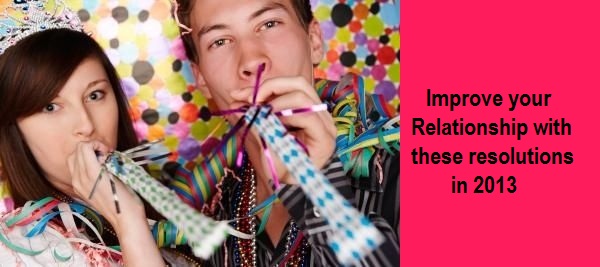 1. Honesty and Integrity- honesty is of great importance in a relationship and relationships cannot be built on dishonesty. Honesty is the strongest foundation for building a long term and stable relationship. Each partner must strive to lead a life with integrity where there is no discrepancy between their words and actions. Share all with your partner as sharing half truths are tantamount to lies.
2. Respect- Accept and value the other person for who he/she is. If you respect them, then only you can feel and also truly love. Don't try to change the other person and appreciate the other person for who they are and you will find that you will be falling in love with that person. Don't try to control each other by being manipulative but be sensitive to each others desires and emotions.
3. Be Open- no person is perfect. Be open in receiving feedback and take it positively for a lasting relationship but make sure it's not one sided. Being open and trusting go hand in hand. This develops strong relationships with the understanding of each others dreams and desires. Talk and discuss as it is not always possible for the person to read your mind and heart.
4. Affection- ideal partners are responsive to physical, emotional and verbal expression of affection. Extend the warmth of your affection and enjoy being close in a relationship with no inhibitions to make life more beautiful when you are together. Express your affection always.
5. Humor- a great sense of humor is the biggest savior of a relationship. Learn to laugh together rather than being offended when sensitive issues crop up. Nothing is more fulfilling than laughing with the person who is close to you.
6. Empathy- it is very important to understand and empathize with your partner. Identify what is common between you two and what are the differences which help you to develop a great understanding with the partner.
Online dating is one of the finer ways of building the foundation of a relationship. It is much easier to share and express your thoughts when the person on the other side is not seen. When meeting at a singles bar, each one is aware of the other person and body language conveys a lot. When dating online both are more open to express their emotions in words and may feel less inhibited especially at the beginning when face to face.
When a relationship breaks, it does make both the partners feel distressed and hurt. Don't jump into a relationship immediately when you break-up. Give yourself some time and 'grow up' to think and analyze yourself. Identify what went wrong in the relationship as one partner is never responsible for the relationship to come to an end. Don't repeat the same mistakes and follow these top six dating resolutions for 2013 and you may find the soul mate to share your life with.
Tags: break-up, dating, life partner, relationship, Romance
Monday, May 21st, 2012
Answering the question "what is love?" is very simple and at the same time very difficult as there is both scientific as well as psychological answers to the question. What science says that when you love someone your mind tends to think about that more often and you find yourself attracted towards that beauty.
This attraction is termed as a state of mind that can last for a few days, months, years or sometimes as long as a lifetime. This can also be termed as a chain reaction or chemical reaction in your brain which intoxicates or mesmerizes you towards the object of your love. This happens all at once or numerous times in your life which they termed as love.
On the other side of the coin psychologists connect this with human feelings and say that it comes from the heart. When you find someone whom you feel is the perfect partner you automatically get attracted due to what some call a chemical imbalance in the brain. The concept of feelings from the heart exists from the day when Adam and Eve found themselves perfect for each other and called it love.
Love can be in terms and defined in different ways by different people but what is true is that it is a feeling not sure from where it emanates from (the heart or mind) but, it makes two individuals feel that they are perfect and made for each other.
Tags: Adam and Eve, female beauty, heart, human feelings, love, Romance, What is Love – a Chain Reaction or Feelings from the Heart